Monthly Archives:
June 2020
Busty Bea, her 60something cunt and you
Bea Cummings, 67 years old in this video and one of the most popular GILFs ever, shows off her incredible body. Bea, who's married and lives in Kentucky, is beautiful in many ways (her body, her face), but maybe the most beautiful part of her is how horny she gets for the camera.
At the start of this video, Bea says, "I'm Bea Cummins, I'm 67, and I'm hot and I'm horny and I know what you're doing right now. So why don't you just sit back, unzip and enjoy yourself because we're going to have some fun. Just you and I."
Bea talks to us a lot in this video, other than the times when she's fingering her very juicy pussy (you can hear it squishing when she slides a few fingers inside) or jiggling her big tits or fucking her old cunt with a dildo. Yeah, we said fucking her old cunt. Nasty, right? But not as nasty as a 67-year-old woman sucking her fresh cunt juices off a dildo. She does that, too.
Aryana Adin is a hot piece of ass from California. She likes going for long runs, studying a range of topics from culinary arts to child psychology and banging both women and men. What else can we tell you about Ms. Adin? Well, we can give you a little insider secret. When she shot this scene with John here, she came for the first time from anal sex. That's right. That ass got tapped until she tapped out! Way to tap that ass, John!
BootyLiciousMag.com: We're glad you're back, Aryana!
Aryana: And I am glad to be back. Especially since I came really hard while shooting. It was the first time I had an anal orgasm, too.
BootyLiciousMag.com: Wait, you mean you actually came when this stud fucked your asshole? Wow! That's hot.
Aryana: I know! It's mind-blowing, right? But it was so amazing. Everything was in sync. I was really horny and his dick felt so big and hard in my ass, and from one second to the next, I was cumming and it was by far the best orgasm I have ever had. It was intense!
Big black cock makes Georgette cum hard
At the start of this video, Georgette Parks tells us that she's about to fulfill one of her fantasies. Hey, Georgette has fulfilled so many of our fantasies, it's great that she's fulfilling hers at the same time.
Anyway, this video is the story of a 65-year-old MILF/GILF/nudist/swinger who has done just about everything sexually in life: gang bangs, bukkake, sex with strangers, etc. But there are a few things she still hasn't done. And one of those things is fuck a black man.
And, so, early in this video, we see silver-haired Georgette wrap her red-lipsticked lips around a black cock for the first time. She gets it nice and wet, sucking sloppily. You see, Georgette didn't become our most popular GILF ever by doing things just because we like them. She does things because she likes them, and it shows. She licks the balls. The guy says, "Do it!" but Georgette doesn't need encouragement.
As you watch this video and see Georgette take the big, black cock in every position, it's clear that she's enjoying her first interracial experience. Somewhere around 20 minutes, she gets her legs all the way back, and we get the gyno view as the cock pummels Georgette's slut cunt. You have never, ever seen Georgette cum like this. She is completely, utterly overcome…or is it overcum?
Whatever. Enjoy. Georgette sure did.
Paddle that pussy! Shave that pussy! Fuck that pussy!
Sheri Fox takes her long, sexy red hair and big tits to a bathroom, where she gets her tits out of a Latex dress in a hurry. Actually, her tits are never really in the dress, which is good for Sheri because she loves to pinch her nipples, and doing so is a lot easier when they're not covered.
Judging by Sheri's loud moans of delight, she's enjoying herself. Sheri, who's 52 and from Central Florida, is one of those women who can enjoy herself when she's with a man or by herself.
In this video, we get some great angles of Sheri's big tits and some very intimate looks at her funkily pierced pussy. Then we get to see her paddle her pussy, which is something you don't see too often. She slides the edge of the paddle between her pussy lips, she moans louder, then she slaps her pussy harder.
At around 15 minutes, Sheri grabs a canister of shaving gel and applies it to her pussy mound. She makes a real mess with that cream and shaves off what's left of her red pussy hair. When she's done, she washes it off then grabs a black dildo and fucks her pussy hard.
What happens next? She cums. You cum. And if you don't, you just might be dead.
Because a woman's asshole has needs, too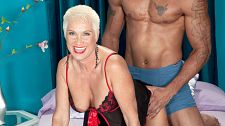 "I can't wait until you fuck me with that big, black cock of yours," silver slut Trinity tells Asante at the start of this scene. "She wants you inside of her."
She, of course, is Trinity's pussy.
"That big dick of yours will feel so good inside of me."
Trinity, who's married but not to this guy, goes on and on about Asante's big cock and what she wants him to do with it, and, of course, eventually-very quickly, actually-it happens. Trinity then gets down on her hands and knees and tells Asante how to play with her asshole.
"Nice and slow at first," she says. "My ass wants you to fuck it."
But first, Trinity's mouth gets fucked. And then her pussy. "Fuck that pussy," Trinity says. And then, after some more asshole-fingering, Asante sinks his dick deep inside Trinity's needy asshole. Needy? Did we say needy? Actually, there's nothing about Trinity that's needy. She gets all the sex she wants and needs.
"But I can always use a little more," she says. And, so, Trinity uses Asante. To fuck her ass.
Rita Daniels, who was 59 when this scene was shot, was born in Washington and lives in New York City. She's one of the most-popular GILFs ever partly because she has big tits, partly because she has a great pussy, partly because she's horny and slutty as can be and partly because she's a great fuck. She's really the definition of "MILF" with her wanton sexual attitude and her facial expressions that say, "I love to fuck."
Here, Rita's going solo. Well, that wasn't the plan, but Rita says, "Where the fuck is my boy toy? I need to be fucked." She pulls aside her sexy lingerie to reveal her shaved pussy. Then she takes out her big tits. She tells us that she "needs her pussy fucked." She needs her pussy licked. "Come on and fucking pamper my pussy," she says.
Finally, Rita lies down by the pool and decides to take care of things on her own. She fingers her pussy deeply, talking dirty the whole time, asking us to cum for her.
By the way, although Rita is divorced, she has a steady boyfriend who came along to our studio to watch her play with herself and get fucked. On their first date, he had one of his friends fuck her while he watched. We would've done it the other way around, but whatever floats your boat, buddy.
Kara Kane is a big-bootied mama who wants to be a star. And with her big cheeks that jiggle and her snug and horny asshole, she is definitely going places. And Kara knows that. That's why she is willing to hustle her way to the top, even if it means she has to drop the poom-poom on a few high-powered cocks to get where she needs to go. But Kara isn't the only hustler around. She is about to meet a white boy who's a janitor by day and a wannabe rapper by night. He may not be a CEO, but the minute he tells Kara that he can make her famous, she is droppin' her panties and droppin' it like it's hot on his cock. In this case, opportunity is knockin' and Kara Kane is knockin' boots.
Fuck the interview! Fuck her ass!
This was supposed to be an interview with white-haired 58-year-old Miriam Harding, but Miriam would rather fuck than talk.
"I love sex," she tells the interviewer. "I especially like sucking cock. I like fucking, doggie especially. I like feeling a cock going in me really deep, pounding me."
She invites the interviewer to sit next to her on the couch. She shows him her tits. "They're huge," he says, wide-eyed with anticipation. For the record, her tits are G-cups. Are they real? Who cares? Before long, question and answer time is over, and Miriam is having the dude play with her nipples. Then he offers her his cock, and she leans over to suck it.
Miriam is one horny lady.
"I recently had eight continuous hours of debauchery at my home," said Miriam, who lives near San Diego, California. "It was incredible."
Miiram is incredible in this scene. She sucks cock deep then gets fucked in her tight pussy. But she really needs it in her ass, and she takes every inch of this dude hard and deep in her butthole. The cum shot is on her face. Because that's where dirty women like it.
Southern belle shows off her tits and pussy
"I'm very much an exhibitionist," said Katia, a super-sexy Southern belle who has lived in Alabama her entire life. "To give you an example, most people who know me know I shave my pussy. That's because I flash it all the time. And I'm very proud of my tits. I show them off every chance I get. So the people who know me won't be surprised by this at all. In all honesty, they're kinda expecting it."
Okay, so the people who know Katia won't be surprised by the sight of her baring her D-cup tits and spreading her perfectly-shaved pussy for all the world to see. But they may be surprised to see her sucking, fucking and getting boned in the ass at YourMomLovesAnal.com.
"That might surprise them," Katia said. "But then again, everyone who knows me knows I have a lot of sex."
In this scene, Katia talks dirty to us. She tries on some sexy lingerie, including a crotchless number. She fingers her beautiful, shaved pussy, models her big, firm, round ass and then fucks herself with a pink dildo that a fan sent her. Yes, of course she puts it in her ass.
"What a birthday gift!" she says, moaning. "Yes, I'd love your hard cock in my ass. The harder the better."
As she spreads her 50something cunt and keeps fucking her asshole, you'll see why we love classy Katia.
Pretty face, nice tits, firm ass. That's Lorena Ponce, a 44-year-old divorcee who was born in Anaheim, California and lives in San Diego, California.
"Sexy, to me, comes from within," Lorena said. "It's the way a person carries themselves with confidence and pride. Sexy is a twinkle in the eyes, a beautiful smile and the way someone walks. A confident yet humble man isn't afraid to ask for what he wants. I'm usually assertive sexually, but sometimes I just want to be taken, and I need a man who has the confidence to do that."
In her first video, Lorena not only shows off her body. She kinda directs the shoot, too, telling the cameraman when to move in and when to move back. Is she the kind of woman who will direct a man in bed, too?
"Maybe," she said teasingly. "You could say I know what I want, but I shouldn't have to always ask for it."
Yeah, right. Slam the salami between Lorena's big tits. Fuck her mouth. Slip your sausage inside her mature pussy. We betcha Lorena won't tell you to move back.