Monthly Archives:
August 2020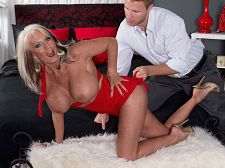 Wearing a sexy, revealing red dress that shows off her slim 'n' stacked curves, 59-year-old Sally D'Angelo returns to fuck a guy who's 25 years younger than her. But that's what Sally does: She fucks younger men.
"My husband and I go to a lot of fun shops because we like the fun clothes," Sally said. "The ones that makes guys' cocks hard. I'd wear them in public if I could get away with it."
She can get away with it in our studio, and she does.
"I  think the guys like all my sexy clothes. I have tiny pieces that can be a skirt or a top. My husband takes me shopping. We fuck all the time in the dressing room while I try on sexy clothes."
By the way, if you have neighbors, keep the sound down when you're watching this video.
"I love being fucked," Sally said. "The louder I'm moaning, the harder I'm getting fucked."
Here, she's getting fucked very hard. Can you blame the guy?
As hard-bodied MILFs go, they don't come any hotter than 42-year-old Jerrika Michaels.
"I love having bit tits and the kind of body men desire. I don't mind being looked at as a sex object. That's just the way I want it!
"I got very horny after I turned 40, and I've gotten really good at having sex whenever, wherever. I even carry a small vibrator around in my purse, just in case I need some relief. Other than this, the kinkiest thing I've ever done was have sex in a park behind some trees with a few people watching. I knew that being watched that time turned me on, so I knew it would turn me on again to get naked in front of the camera. And I was right!"
It's nice to know that 60something silver slut Jewel has an open-minded husband who doesn't mind that his beautiful, sexy wife went away for the week to get fucked by a total stranger for our cameras. Would you mind if your wife or girlfriend did that? How many of you would encourage her? Just remember: If your wife is as horny as Jewel is, you get many of the benefits. And they're not merely fringe benefits. They're real, live, fucking and sucking benefits.
Jewel was born in Raleigh, North Carolina and lives in Charlotte, North Carolina. Her favorite team is the Carolina Panthers of the National Football League. She enjoys reading, cooking and spending time with her granddaughters. Nobody in her family, other than her husband, knows that she does this, and that makes it even more special.
In this scene, Jewel's guy is 27, which makes him young enough to be her son and almost young enough to be her grandson. Notice how much Jewel loves the cock. She doesn't just suck it. She makes love to it to, getting her mouth and tongue around every inch and never forgetting the balls. Our favorite part of the video is when the stud asks Jewel, "You want that cum?" and Jewel replies, "I do want that cum!" He says, "You want that cum all over your face?" and she says, "Yeah, I do. Just cover my face with it."
How often does Jewel have sex? "Several times a week," she said. "I don't really count or keep a scorecard. I just fuck!"
Big-racked MILF Angie starts off this audition in the makeup chair, being fixed up to look all prim and proper. But there's nothing prim and proper about this mom and divorcee, who loves to suck and loves to swallow and gets laid as often as she can. In this scene, she eventually gets around to showing off her well-fucked tits and thousand-times fucked cunt, and she's happy to do it.
Angie is 50 years old and from South Florida. She has DDD-cup tits and pierced nipples. Rather than have a tramp stamp on her lower back she has it above her pussy. You can find her fucking elsewhere on our sites, but here, you have Angie, her huge tits and her wide-open pussy all to yourself.
"Men are always looking at my tits," she said. "I'll go to the supermarket wearing a sheer top with no bra, and my nipples poke right through, especially my piercings. Every time I go to the store, someone tries to pick me up."
Do they ever succeed?
Angie smiled. We'll take that as a yes.
"I'm going to be giving a sex lesson today," Jewel says at the start of this scene. She sees that Juan has been reading a book and tosses it aside. There's no time for that now. "They couldn't have written a book about what I'm going to teach you today. If you learn how to please me, you're going to have a hell of a good time."
Here 65, Jewel has been one of our favorites since she first walked into our studio in 2005 and fucked for 40SomethingMag.com. We think she looks better than ever. She's definitely sexier than ever.
"I'm the woman you could meet a grocery store, and if I was attracted to you, I'd probably jump your bones and take you back home. It's fun that way."
In this scene, Golden Girl Jewel tells us how to handle her tits and nipples. She gives pussy instruction so you know how to finger it and eat it. She tells and shows us how she likes to give a blow job. And then she fucks, finishing things off with a creampie.
"I've been called a porn star," Jewel says in the interview that precedes the sex lesson. "I don't think of myself as a porn star. I'm just me. It's been a fun ride."
And the ride continues as she rides Juan's cock. We'll keep on enjoying the ride for as long as Jewel wants.
Gracias, Hitomi. Domo Arrigato!
Hitomi is a traffic-stopper back home in Tokyo. There is no one like her. Most Japanese girls with huge, natural tits are plumpers or heavy-set. Slim-n-stacked Hitomi is a true natural phenomenon of nature, like Merilyn and Venera. Hitomi's pendulous boobs and sexy physique most closely resemble Sharday's in many ways, especially in tit-shape and slope, very much the "hanger" type of breasts. Hitomi's torso is even slimmer than Sharday's, making her look even bustier. Valory Irene is another sensational SCORE model who shares similarities to Hitomi. Hitomi has large, very pale areolae and very pliable breasts. She can easily bring her nipples to her mouth and suck them. During the week, Hitomi endears herself to her bosom buds and the SCORE staff. Truly, a living doll out of a Manga (a Japanese comic book).
Her name is Penny Porsche, and she's one of the bustiest MILFs ever. She's a porn star. She has F-cup tits on a 44-28-38 body.
"I love my big tits," Penny told us while she played with them. "I'm a very positive, big-breasted woman."
Because Penny has big tits, she's also a SCORE Girl. Because she has big tits, her big clit often doesn't get the attention it deserves. But Penny is here to make you happy.
"Stick you cock between my tits," Penny urged. "Fuck them hard! Squirt your load all over my tits and get some on my face. We can take care of my pussy later."
"I like to dress conservatively with a touch of elegant sensuality. But when the clothes come off, my inner slut comes out."
So says 71-year-old divorcee Katherine Merlot, who can be seen here sucking and fucking and getting her pussy filled with cum by a guy who's only 28.
"I've had sex with men in their 20s and 30s even before I came to your studio," Katherine said. "I've also slept with men in their 40s to 60s. I like them all, but the younger guys are the most intrigued by me. After a night with me, they always leave pleasantly surprised."
In this case, it's what her stud left behind: his cum.
"I don't quite understand why what you call a creampie is so forbidden," she said. "Don't most men cum in the woman's vagina when they have sex?"
Yes but not when they have sex on-camera. There's something very personal about it, and when Katherine opens up her pussy so we can see her just-creamed cunt, we can tell she knows she's being naughty.
"I was a video virgin before I came here," said Katherine, who has now had sex on-camera six times for our viewing pleasure. "Now I feel as if I've done it all!"