Monthly Archives:
January 2021
Lea's Big Plump Fuck At XLGirls.com
The only difference between the XLGirls.com video and photo set of Lea and Patrick is, in the photos, Lea stuffs her pussy with a long dildo while she waits for him to get over to the set and give her the beef.
Mature Czech plumper Lea is not the type to just sit with the photographer and patiently wait for the stud to arrive. She likes to keep busy and warm up.
Patrick finally shows up, already stiff as a log, and gives Lea something to suck on. He licked her MILF slit, like most Euro studs tend to do, slid a finger in, then replaced it with his cock and fucked Lea so hard, she walked funny the rest of the day.
"I did not know his penis was so thick," Lea said in Czech. As for Patrick, he knew ahead of time that Lea was thick, and that's what he likes…a nice, chubby, mature woman with big, plump tits who does whatever he wants.
Mae Montgomery: XLGirl Goes To Her Happy Place
Fresh, foxy, flirtatious and full-figured, Mae Montgomery gets playful all around the place, beginning in the bedroom and having a happy ending in bed. She's a teaser and a pleaser.
XLGirls: What satisfies you best?
Mae: I love to be used like a personal play toy. I love to be treated like a lady during the day and a dirty whore at night, basically. Because I can be both "The Madonna and the Whore," to quote Dazed and Confused, one of my favorite movies.
XLGirls: How often do you have sex?
Mae: As much as I possibly can!
XLGirls: Do you have a favorite position?
Mae: I absolutely love it from behind. It's definitely my favorite. But I also love it when a man is on top, my ankles are up by my head, he's pushing down on my thighs and pounding me so hard and deep that my breasts bounce like crazy, and all I can do is lay there and take it.
XLGirls: Maybe one day you'll show us here. Let's talk foreplay.
Mae: Wow, that's such a broad subject. I always love a little drink first, some playful touching of the thighs or knees. Send the "come fuck me" glances that leads to me being pushed against a wall…the type of heavy making-out where we just can't get enough of each other and we have to rip off each other's clothes.
XLGirls: What about kinky stuff?
Mae: I have learned that, apparently, what is normal for me is extremely kinky for other people so choosing my kinkiest sexual encounter is quite difficult. And unfortunately, that is not something I'm able to share. But I can tell you that being tied up with rope, not just around my wrist but around my body like a bra, bent over and spanked with a paddle feels exhilarating.
XLGirls: Breast bondage. Have you been with another girl?
Mae: Just some making-out and touching but I have always wanted to play with a girl.
XLGirls: When you give a blowjob, do you spit or swallow?
Mae: I definitely swallow because my throat babies don't hatch. Can I say that? But seriously, if he wants me to spit it back out, I will. Or if he wants to cum on my breasts or face, it's all fair game. Just watch the hair.
XLGirls: Throat babies, that's a new one even for us. Stay sweet and sexy, Mae.
First a dildo then a cock for Jeannie Lou's ass
Today, 62-year-old Jeannie Lou has a surprise for her man. She's wearing a blue dress that makes her look classy. But you know what they say…"devil with a blue dress…"
"I've got something new today," she tells Tony.
Crotchless panties? Yep. But that's not all.
"They fit so nice," Jeannie Lou.
So does the cock that's about to go into her ass.
Whoops! Spoiler alert!
Jeannie Lou also has a new dildo. "I always wanted one of these up my ass," she tells her guy, "before I get the real thing."
Spoiler alert!
Jeannie Lou takes that dildo up her ass while she's sucking cock…or trying to suck cock. She's so overcome by her analgasm that she has trouble sucking. She vibrates and cums and tries to suck some more. Of course, she does get the cock hard, and where does it go? Straight to her old asshole!
Yep, Jeannie Lou gets ass-fucked for a good long time before the cock finds its way to her pussy, so if you're into seeing old gals getting ass-fucked, this scene is for you. Jeannie Lou is for you.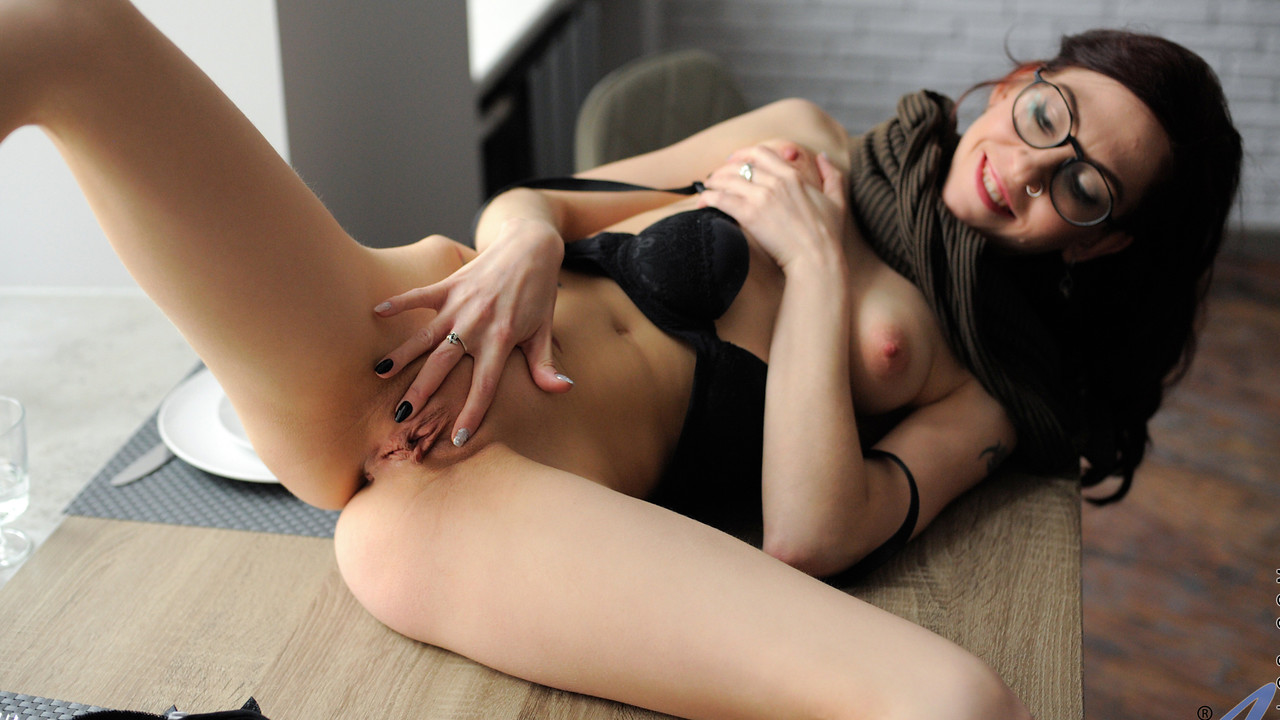 featuring Gwen.
Added On:
Jan 14, 2021
Description:
Slim, sexy, and oh so fuckable, Gwen wants you to take a good look at her lovely figure. This horny mama wants you to touch, so be prepared to enjoy the show as she uses her talented fingers to show you all the secret keys to make her lovely body hum.
Who is this wildin' out, freaky-deaky, porn-loving, slutty-looking bad-ass?
Sabrina Linn is a Texas mom boasting Texas-size 40GG tits who found SCORE at BeASCOREModel.com and wanted to join in on all of the action she's been seeing and reading about. Sabrina's a real MILF, not a fake Hollywood porn MILF.
Sabrina loves tats and pussy piercings and nipple rings and she loves them in a big way. "Back home, I masturbate a lot and I am a toy junkie," said Sabrina. "I try to masturbate daily to porn when I wake up to very sexy thoughts. I am fully-bisexual and love sex with women and men. I have sex three to four times a month. I wish I had it three to four times a day.
"I have two looks. One is as a mom in public wearing nice tops that cover my cleavage but are fitting. The other is going out in anything that shows off my curves."
Banging a porn stud on camera was one of Sabrina's dreams and she fulfilled that dream. A chick like Sabrina needs an experienced, hung stud, so Sabrina was given one of the best. They play tit-slapping games, then her pussy gets a licking and a finger-bang before Sabrina swallows his dick for a sloppy throat fucking and squeezes her boobs together for a tit-banging. Sabrina gets into a hard-ramming fuck and a facial with cum-swallowing. This mom clearly loves being on the receiving end of raunchy and pounding porn-sex.
Bunny Brooks tells all about herself, tries on a tight tank, oils up her big boobs, reveals every inch and spanks her pussy. "People love my big, bouncing boobs," says Bunny. "Guys and girls always go for my boobs first. Boobs. Nipples. And the nipple rings."
Bunny likes playing with other girls and screwing them with strap-ons. She visits swinger clubs and describes what she does there in her video.
"I'm a cam model so I enjoy using vibrators and machines. I have a fuck machine. It thrusts. Multiple glass toys. Double dildos. Strap-ons. A sex swing. You name it."
Nikky Wilder is as hot as a summer day in South Florida.
"You guys will really like this," Nikky says as she rubs her body and big tits with her hands. "I think I did really well with this outfit."
That she did. But we really can't wait to see it all come off. Nikky is about to treat us to a strip tease and we couldn't be more delighted. She seductively peels off her halter top and skirt and then slips on a blue one-piece that has no chance of containing her F-cup breasts.
After trying on a few more items, Nikky lies down on the ground and begins playing with her clit and finger-banging her pussy.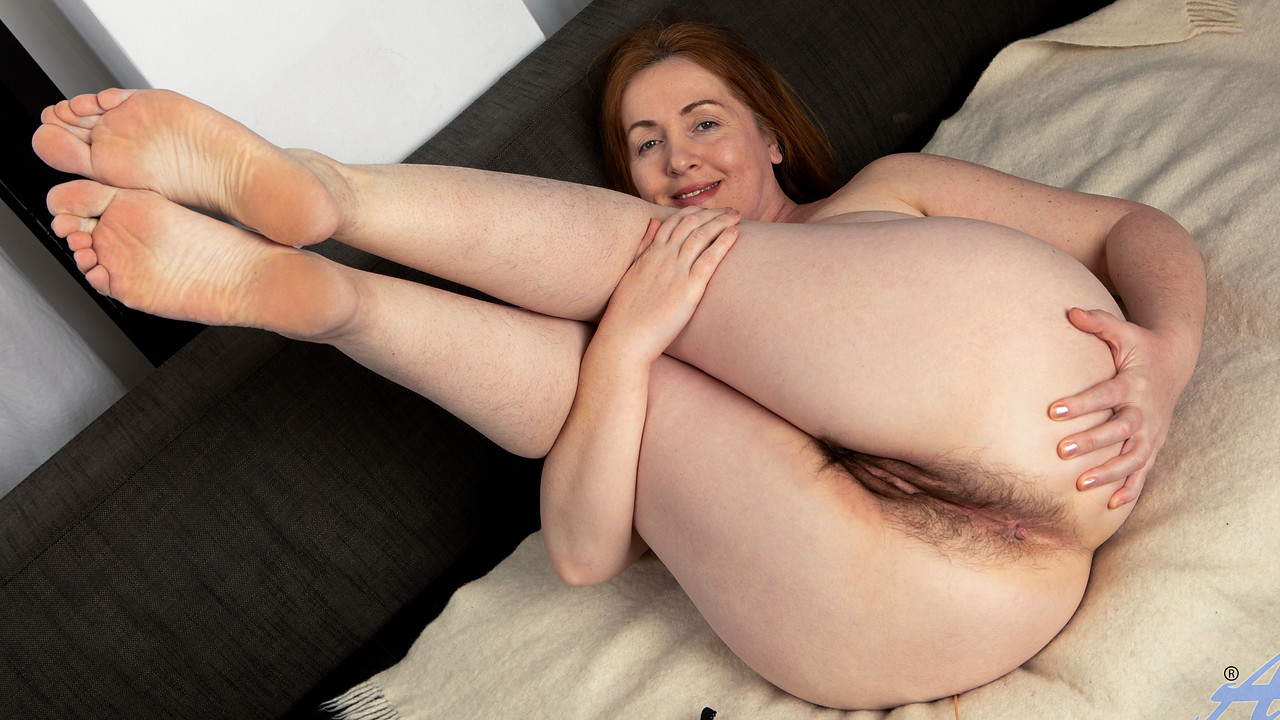 featuring Gloria.
Added On:
Jan 13, 2021
Description:
We love busty housewives like Gloria who are lusty and horny enough to bring their own huge tits up to their mouth to suck their own nipples. Let this horny mommy show you how it's done as she finger bangs her hairy snatch with her magical fingers that plunge deep and won't quit until she cums.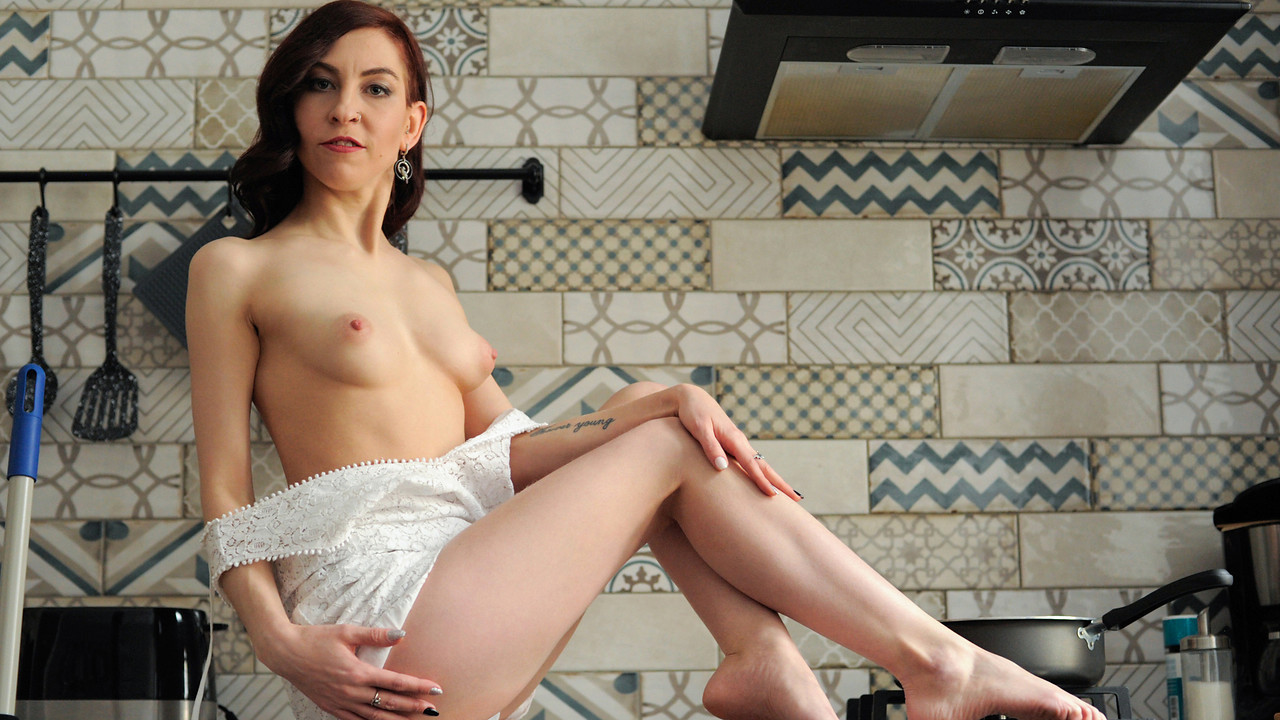 featuring Gwen.
Added On:
Jan 12, 2021
Description:
When Gwen is finished cleaning the house, this horny mommy rewards herself by getting naked and fondling her generous titties until her nipples are nice and hard. Once she starts stripping, this hot housewife won't stop until her hands have explored every inch of her body, from her hard nipples to her wet cunt.
Slone Ryder was a naturally big-busted dancer who discovered Voluptuous magazine in an unusual way. Said Slone, "I was dancing for a number of years at The Manhattan Club in Richmond, Kentucky and I even did some softcore films. But, I felt like I was ready to do something a little more bold. I was getting a little bored and decided I wanted to branch out and get into modeling and performing in hardcore films. I have always wanted to do that, but I just never sought out the opportunity. I actually had a Voluptuous magazine at my house and I saw your email address and I sent you an email and that's what got me here. My brother is a distributor in our area. I knew about Voluptuous, so I asked him for a copy. I was very curious because I had heard of the company and wanted to see what it was all about."
Slone was a natural at posing nude from her stage act, and a natural at masturbation and fucking on-camera. Her big tits get Slone lots of attention. Who wouldn't get a lump in their pants seeing her fertile body?
"My measurements are 40-32-40, and my bra size is normally a 34DDD or even an E-cup, but E-cup bras are much more difficult to find, so for most of my bras I'll go a size smaller and wear a 36DD. That fits really snug, but it gets the job done."
Unfortunately, Slone retired just as she was getting warmed up.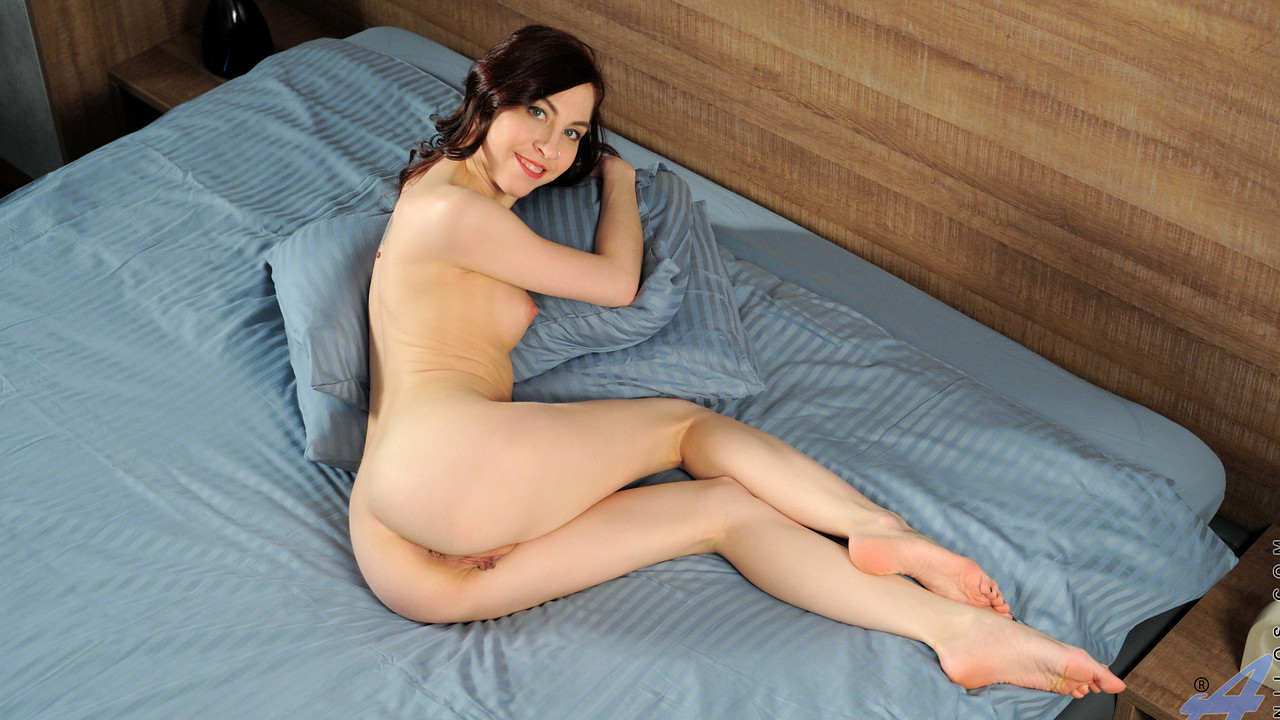 featuring Gwen.
Added On:
Jan 10, 2021
Description:
Sleek and sexy in her daytime dress, Gwen wants you to know that she's always happy to fuck. Her talented fingers know just what to do to make her nipples go hard as rocks and to make her pussy pulse with excitement. This is one lusty treat you are definitely going to want to eat right up.
Blake Blakely teases Nade before she surrenders the prize. Smiling, a glint in her eyes, she pushes his hands away when he reaches out to play with the slender, pretty blonde's big tits. Blake knows how to make a guy hard with the tease and denial game.
Finally, she gives up her body to him. Blake sucks and tit-fucks his cock and sucks his nuts. Then it's dick-down time. They fuck hard, with Blake riding cowgirl first to get the cock deep inside her pussy.
Blake said she likes it rough and dirty. She likes dirty talking. "I tend to be submissive…passive. I haven't been with a girl yet but I would be open to it."
Showing off her body on- and off-camera gives her pleasure.
"I like wearing skimpy clothing and going without a bra. I have had people ask me if they are real or not when I am wearing clothes and I have also had people tell me my boobs are the first thing they noticed."