Monthly Archives:
March 2022
We're excited to introduce Linda Storm, a 63-year-old wife, mother and grandmother from the UK who's sucking and fucking on-camera for the first time. When we asked Linda why she decided to do something that most women of her age don't do, she said, "I think it was the age factor. I'm not as young as I used to be, and if I don't do it now, it's going to be too late, so why not?"
Linda has been married for six years. She's a housewife whose hubby generously lets her fool around with much-younger men. And although this is her first time, when we asked her if the people she knows would be surprised to see her here, she said. "I've been an exhibitionist for quite some time so perhaps not."
Linda enjoys netball (for those of you in the U.S., the sport is similar to basketball), swimming and cycling. Her hobbies are dancing, swimming, gardening and going for long walks. We asked her to describe her perfect day.
"I'd start by having sex," she said. "Then naked sunbathing or swimming. Sex by the pool, a lovely meal with wine, dancing and then sex before bed."
So, basically, a lot of sex with some time-fillers in-between.
Linda has been a secretary, a sales assistant and a postal worker and volunteers for charities. And now she's our newest 60Plus MILF.
Katrin Porto: Thick Redhead Drains Two Studs
Katrin Porto has invited Matt Darco and Michael Fly to worship her thick body. She wants their cocks in her mouth and pussy and between her big tits, and that's easy for the chesty, big-assed redhead. All she needs to do to get a guy is to snap her fingers.
Each man takes a tit and sucks, sending waves of pleasure through Katrin's body. The photographer in the room shooting the photos and video adds to the excitement and the tingling Katrin feels. She's an exhibitionist and being watched makes her wetter and hotter.
Michael gets the honor of fucking Katrin first. As he thrusts deep into her shaved pussy, Katrin, on her side, enjoys the taste of Matt's meat, studiously sucking his cock. Her tits shake with every thrust into her wet cunt. Share and share alike is the rule in two man-one woman threesomes so now it's Matt's turn to dick Katrin.
Katrin sits on his lap and uses her hand to stick Matt's cock up her pussy. Michael's cock is not neglected. A multi-tasker, Katrin grinds hard on Matt and takes Michael's cock in her mouth, sucking hard. Before Katrin drains their balls dry, she wants to fuck in more positions. They have quite a woman on their hands.
The always friendly, cheery, perky and busty Angel Wicky is lugging a big case. Now, what's in it? Ah, a cello. Is lovely Angel going to play a heavenly song to warm the cockles? Afraid not, friends. What Angel is going to do next is sing us a song, and the blonde sexbomb has the angelic pipes to do it. Her voice, like her lungs, is lovely.
Would you believe this beautiful girl doesn't like to go out on dates?
"Yes, it's true," says Angel. "I like to share time, like having a friendly coffee or a meal."
Angel returns to her cello, and while she does pluck her magic strings with the bow, she leaves the real deal of pleasuring her gates of heaven to her really thick vibrator.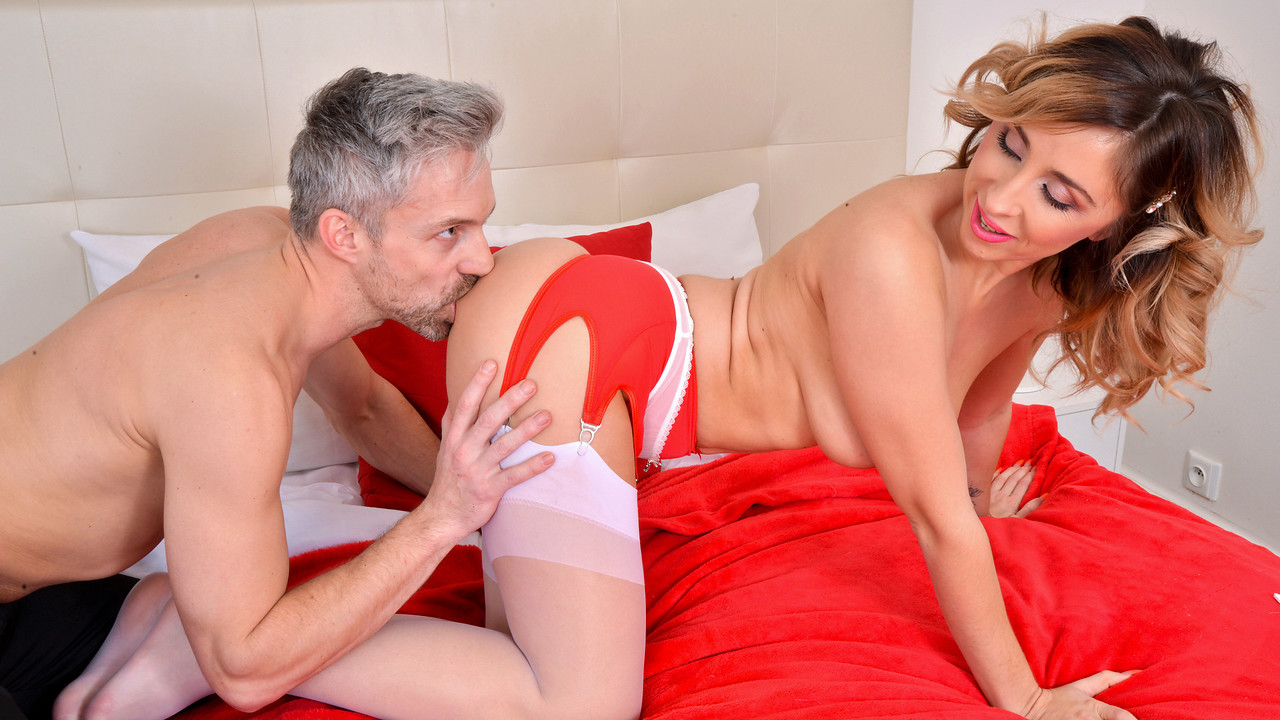 featuring Eva Brown.
Added On:
Mar 30, 2022
Description:
Roses are a surefire way to Eva Brown's heart, as well as her bed. Her lover takes his time stripping her down and worshipping her pinup body, indulging in plenty of pussy eating. Once Eva's nice and wet, her beau dives deep with hardcore fuck fest that leaves her moaning.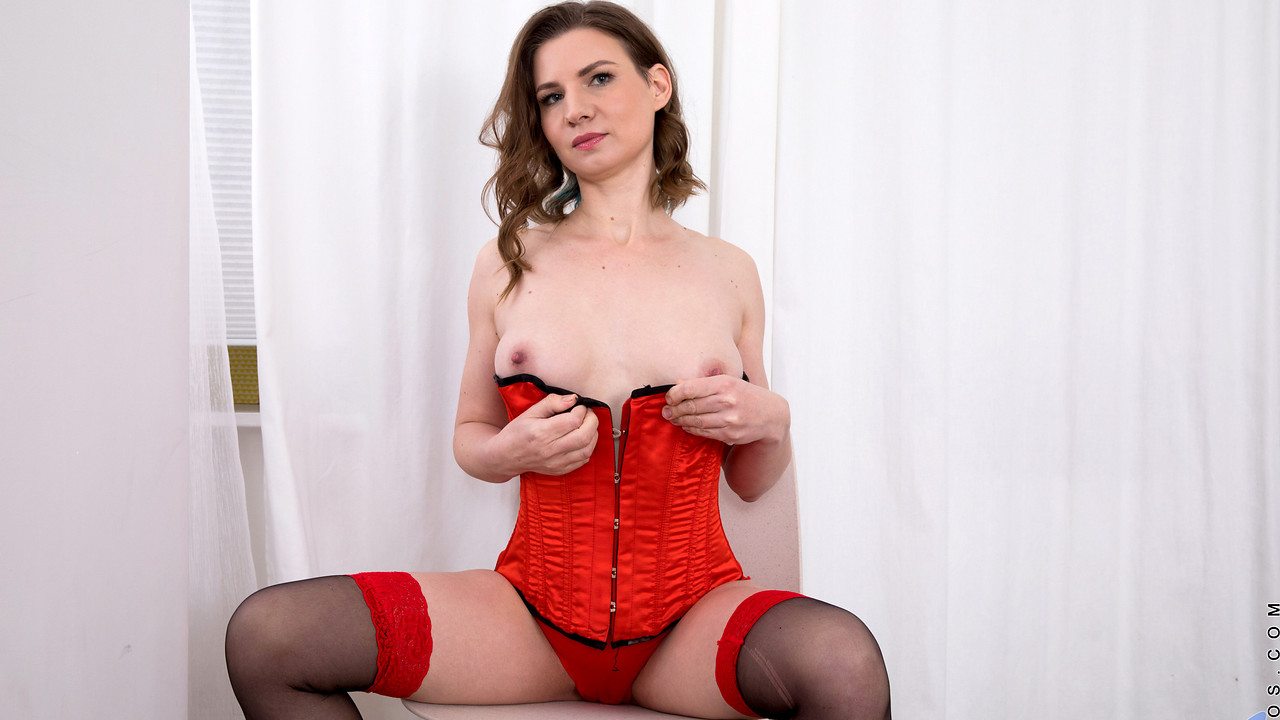 featuring Zlata Charm.
Added On:
Mar 29, 2022
Description:
If you're not busy, Zlata Charm could use your help lacing up her corset to make her big boobs pop even more. Then again, there's something to be said for just taking the whole getup off and enjoying the way her talented hands caress herself from tits to bald and dripping snatch.
Kamille Amora has heard every pickup line imaginable. She definitely has "holy hangers," considering how many times guys have asked her if it hurt when she fell from heaven.
"Yeah, I get that one all of the time," Kamille said. "That's not even the funniest one I've heard, though. One guy said, 'Girl, come over here and hypnotize me with those I's.' I wasn't even sure what to do."
You wouldn't really have to do anything, Kamille. Simply standing still while we stare at your boobs is hypnotizing. And we've been lost under your spell for quite some time now. And that's just fine with Kamille.
"I enjoy the looks and attention I get," she said. "It felt a bit weird when I was younger, but now it feels good knowing that men want me. I like having eyes on me."
Tighter and tighter.
Jeans, that is.
Risque Waters enjoys anything that's lots of fun.
The funniest pick-up line she's ever been handed is "I wanna tap dat ass."
The worst thing a man can ever say is "Those are some big ta-tas." Substitute that for "That sweater looks very nice on you."
XLGirls: What sexually satisfies you best?
Risque Waters: A cock in my pussy.
XLGirls: Do you start sex or do you wait for the guy to take charge?
Risque Waters: If I waited for a guy, I'd still be a virgin!
XLGirls: How often do you like to get fucked?
Risque Waters: About four times a week, if not more.!
That says it all. Risque has no trouble getting lots of offers, not with that body and sex-loving attitude.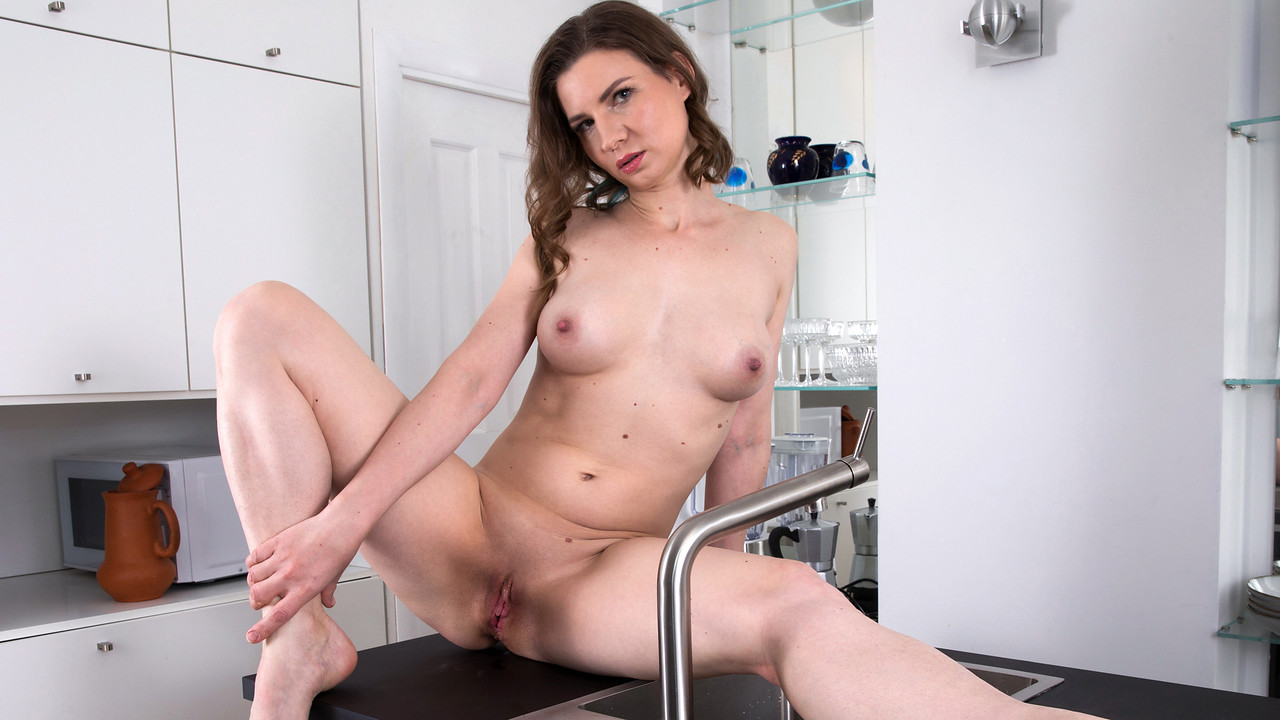 featuring Zlata Charm.
Added On:
Mar 27, 2022
Description:
Have you ever seen a mommy with tits as lovely as Zlata Charm's? This cum loving milf is always looking for an excuse to show those sweater puppies off. When she begins stripping, she definitely won't stop until she has spread her thighs and gone to work on her juicy bare twat.
Victoria Lobov's Bikini Sex Photo Shoot
Busty bikini sex-bomb Victoria Lobov is having a photo shoot with Tony Dutch. To complete a photo session with a woman like this without having a raging boner, the photographer must have a will of iron. Pitching a tent while shooting a hot-body model is considered bad form in the professional photography business.
Tony is up to the challenge of photographing Victoria in her gold extreme swimsuit but quickly loses his self-control as we all would. The shoot barely begins when it ends. Tony forgets the pro photographer's prime directive when seductress Victoria gets on her knees to swallow and tit-massage his dick. Following Victoria into the bedroom, he sets his camera to record and gives the slim and chesty beauty the pounding fuck she wants.
"I would love to try a threesome with another large fake-boobed girl," said Victoria, who likes to wear hot pants, high heels and a tight top that shows big cleavage. Danielle Derek is another SCORE Girl Victoria would like to make it with in a girl-girl, with a stud in a threesome and with two studs in a foursome.
Kim Velez & Sofia Damon's Hooter Hideaway Holiday
Kim Velez and Sofia Damon have booked a cozy hideaway for the weekend because that's what busty bosom buddies do. Once they've settled in, they compare their bra and panty sets. Their bras are sheer and look delicate but they have to be well-made to withstand the weight of their heavy and full breasts. The girls compliment each other's taste in lingerie and feast their eyes on the natural treasure chests that have made them famous
Sofia wants to give Kim an oily breast and ass massage and can't wait to take off her bra and panties. Kim is as excited to get a massage as Sofia is to give one. She pours the oil on Kim's tits and cheeks and rubs it in. Kim does the same for Sofia. Excited and eager, they're ready for some more girly pleasure.
Kim brought her little friend, a strap-on with a thick donger attached for pussy-stretching pleasure. Sofia's eyes light up and her big hooters shake in delight. "I'm going to fuck your tits like they've never been fucked before," Kim says. Kim fucks Sofia's tits and then plunges it deep into her pussy. It's Sofia's turn next.
Kim slips off the strap-on and gives it to Sofia so Kim's tits and pussy can get fucked also. "Do you like it softly? says Sofia, easing the fake cock in. "Your pussy is so wet." Kim is not finished. She puts the strap-on around her waist again and gives it hard to Sofia from behind.
It's one wet and hot weekend at the girls' hooter hideaway.
Tapping The Tight Tops & Big Tits Girl
Jewish porn star Daphne Rosen tries on tight tops and the effect is total hard-on producing. It's hard to even believe that girls like Daphne exist in the flesh & blood world. But she's real. Incredibly real.
After Daphne teases, taunts and tantalizes in her tight titty tops, she's brought to a house and fucked in the ass. She won't let the stud jerk off on her and strokes his cock herself instead, milking his balls so she can get his nut on her huge boobs even though his jizz is not kosher. This is big tit porn for big tit porn's sake. No story was needed. It's true whack-off, go-to material.
"I was sort of born for sex," said Daphne. "I mean, fate dealt me a hand that I basically had no choice. My mouth is very, very talented. I can obviously do a great titty fuck. My pussy, I've heard, is absolutely amazing. My asshole, very accommodating. Both my holes are very tight at the beginning, and then inside, they apparently give the cock a real hug. Sometimes it's hard to last with me."
No kidding.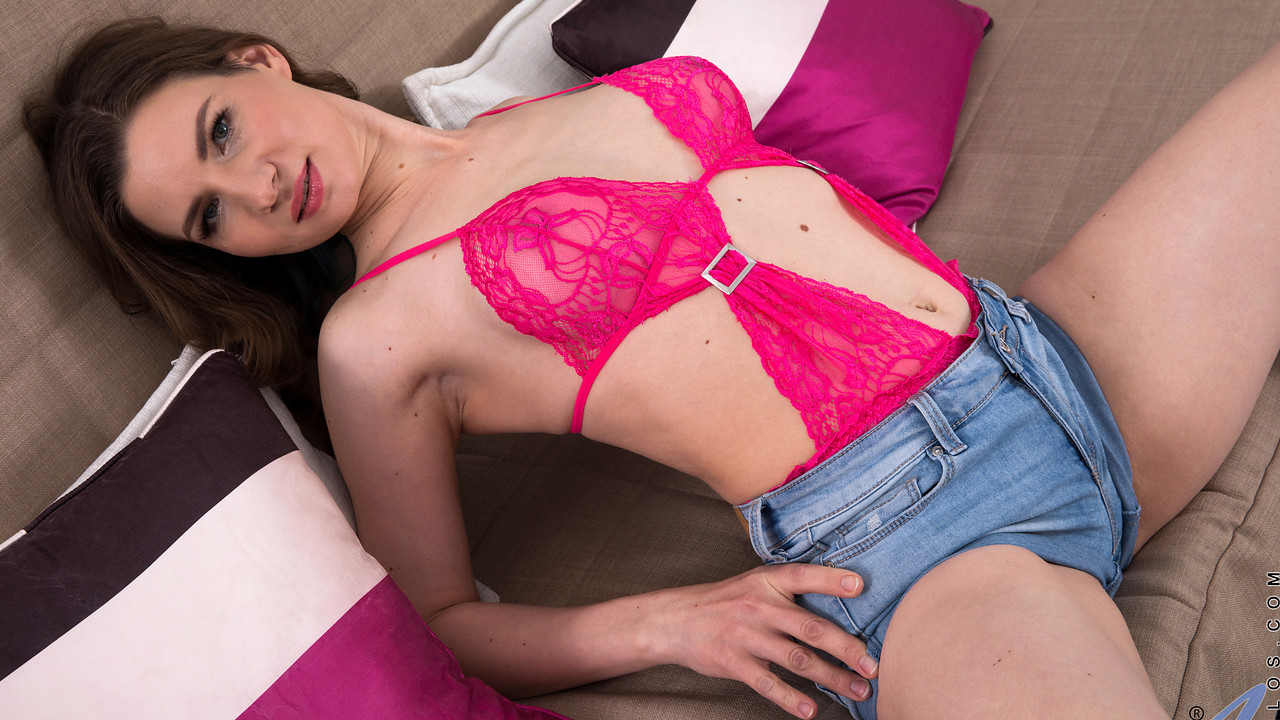 featuring Zlata Charm.
Added On:
Mar 25, 2022
Description:
Workday clothing over hot lingerie is totally on brand for cock loving mom Zlata Charm. This busty Russian housewife loves to undress slowly, reveling in all of her lovely curves from the jut of her big boobs and the delight of her ass to the slippery allure of her cum craving bald pussy.