Monthly Archives:
May 2022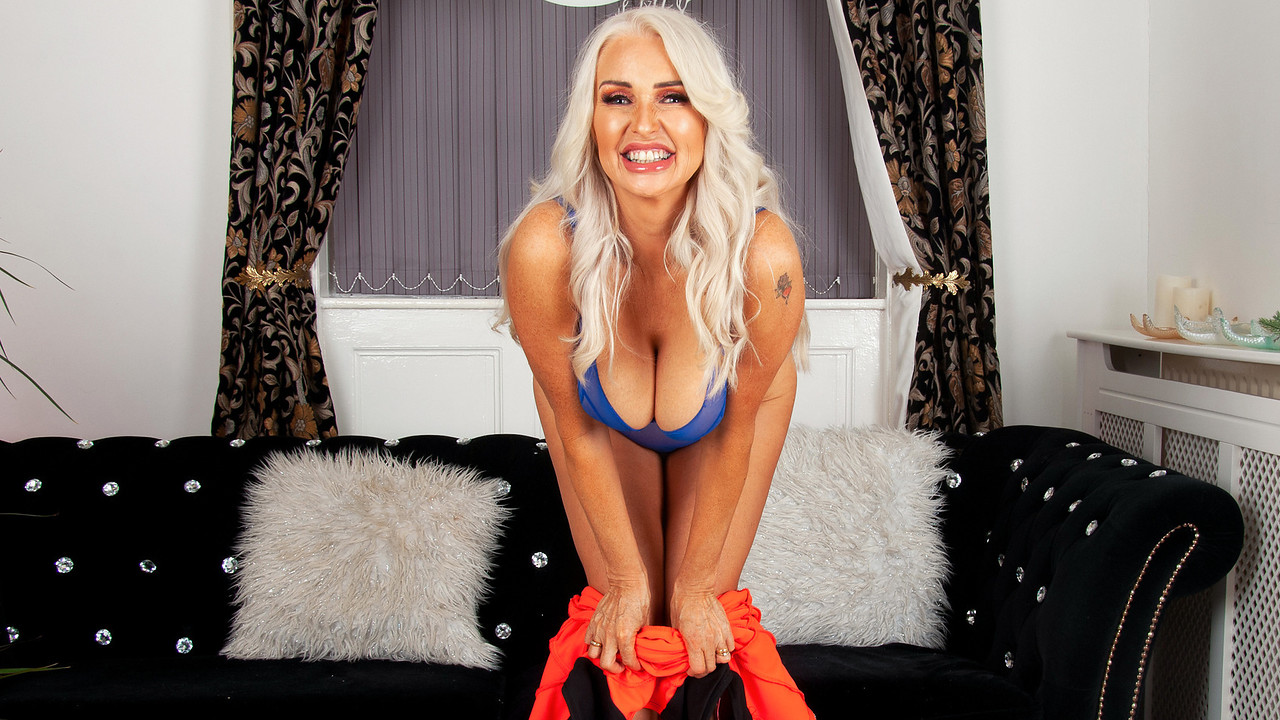 featuring Farrah.
Added On:
May 22, 2022
Description:
Getting it on with toys is the new normal for Farrah as she navigates the life of a hotblooded lady who's flying solo. Not that she minds since she knows just what she needs to cum! Watch her demonstrate all over her big boobies and then her creamy cooch as she moans her way to climax.
Tom Holland escorts Jessy Bunny to her bachelorette apartment after their date doing the town. Tom kisses her hand the gentleman's way and is about to leave, but Jessy wants more than a peck on her dainty little hand. She has a lot of boob for Tom to play with, so she guides him to her sex couch after she takes out the giant tits she is proud to show off.
Young and hot for experienced porn cock, Jessy knows how to treat a guy, sucking his dick while she stares at him with hungry eyes and making his cock vanish completely between her tits. She wants that cock ravishing her pussy and in her butthole.
SCORELAND: Do you ever make yourself cum looking at your videos and photos?
Jessy Bunny: Yes, of course. Sometimes to recall that hot scene that I had…like how the guy fucked me. How he pleasured my moist pussy. These videos are like the only possibility for me to see my body in different angles so it turns me on even more. Seeing my pussy in close-up and seeing my big, fake tits bounce. So exciting, I have to play with myself.
Hot dancer Alix Lakehust at the Big Girl Strip Club is popular with the boys. Very popular indeed. A customer at the club has been watching the well-cushioned stripper all night and is ready to douse his boner with the contents of a fire extinguisher. He can't take much more of her big, shaking tits and grinding butt and his pants are on fire.
After her show, Alix has no trouble talking him into a private couch dance in the VIP Room. Alix grinds her plump ass against his tent post, giving him a lap dance that he'll want to try again and again.
Their private dance gets carried away. Alix has given her customers a fuck before and she's in the mood now for a new one. Strippers get horny too. He begins dry-humping Alix and squeezing her fat tits, rubbing her nipples and enjoying her face-warmers. She blows him down, sucking his balls, jerking his shaft and squeezing her jiggling jugs together so he can tit-fuck her.
The bouncers outside the door are oblivious to what is going on in the VIP Room and the sounds of a fucking couple are drowned out by the music. They wouldn't care anyway. Her customer drops trouser and begins fucking Alix on the couch.
Alix is well-trained in the art of pole-dancing, and after the titty-swinging brunette rides his pole like a Pogo Stick, he slips his cock deep into her cunt. Then they move to the ottoman so he can fuck her on her back. This accomplished lap dancer is an expert in male satisfaction and cum removal! Alix Lakehurst is truly one of Chicago's finest.
Mabel Moore: Lass With An Ass & Huge Tits
Mabel Moore is in a playful mood. Her photographer teases her and she teases him back. She slowly peels off her pants and top to show her black bustier corset. Their tease game ends with Mabel in bed sucking on his dick like a candy cane and pressing her vibrator against his nuts.
Mabel likes a lot of lip service paid to her giant, shapely boobs, and Shay is up for that. He eats out and vibrates Mabel. While he's finger-fucking her and she's vibrating her clit, she squirts a gusher and cries out in pleasure. After this explosion of pleasure, Mabel is ready for fucking.
You Want A Girl Like Ivanna Lace
You're at Ivanna Laces's place where the big show never ends. She's the reason the hobby of girl-watching was invented. A beauty among beauties, Ivanna takes off her tight red dress and walks over to her full-length mirror by her bed to admire the view of her huge breasts in her bra and her endless curves.
Ivanna, who's the dream girl of many, tries on another bra and panty set she's bought and approves of how her tits look in them. She puts on a blue teddy to sleep in and gets into her bed. Except Ivanna can't fall asleep, so she takes off her negligee, fondles her heavy sexy tits, puts lube on her pussy and masturbates with a huge fuck-toy. She pumps her pink cookie, wet from lube and her own juices, and cums. Now, a satisfied Ivanna can sleep and have sexy dreams.
"All of my life, since I can remember, guys have paid much attention to me. That is one of the reasons I became a web model," Ivanna told us a few years ago. "I am very proud of my body. I developed early and I always got a lot of attention."
Maddie Cross and her son's best friend
Maddie Cross, the 55-year-old wife and mom who has become an instant sensation here at 50PlusMILFs.com, has some alone time. Her husband and son are gone, so she sits on her couch, lies back, spreads her legs and starts playing with her pussy through her crotchless panties. Maddie is enjoying herself, but she doesn't know that someone else is enjoying her at the same time: Nicky, her son's best friend, who's watching her through her sliding-glass doors. He actually takes out his cock and starts jacking off in broad daylight, and Maddie catches him.
"Nicky, get in here," she says. "You're out there jacking off. You've been doing this a while. I can tell."
"Sorry," he says, feebly.
"I'm going to teach your ass a lesson," she says.
Uh-oh. Now he's really in trouble…or is he?
"Today, you're gonna fuck me," she says.
"What about Mr. Cross?" he says.
"This is just between you and me. I'm going to teach you a big lesson."
Sounds like a damn good lesson, especially when Mrs. Cross has him sit down and starts sucking his cock. And his balls. And sits on his face and grinds her cunt into his mouth, her tits hanging enticingly. And lies back so he can eat her pussy. And bounces up and down on his rod. And he fucks her big, tan-lined tits and cums all over them.
We're kinda wondering what lesson Nicky learned from this. Always peep on hot MILFs while they're masturbating? Okay!
Pretty Peyton Thomas put on a white crop-top, white panties and stacked red heels and walked into the garage. Meanwhile, our oil cannon was getting filled, ready to squirt Peyton when she backed up against the wall. They let her have it until she was nice and wet and dripping with the slick. The Coast Guard offered to help with the oil slick but we told them everything was chest fine.
Now soaked, the sexy brunette rubs the oil in and gives us a major boob show. Peyton's mind-blowing boobs are huge beyond belief. She buys 40N-cup bras. That's twice as big as a man's head. A guy could spend many enjoyable hours with his face and cock inside her cleavage.
Peyton rips her now-drenched crop-top and takes it off. The sight of her naked massive hooters should have die-hard breast men ready to weep tears of joy.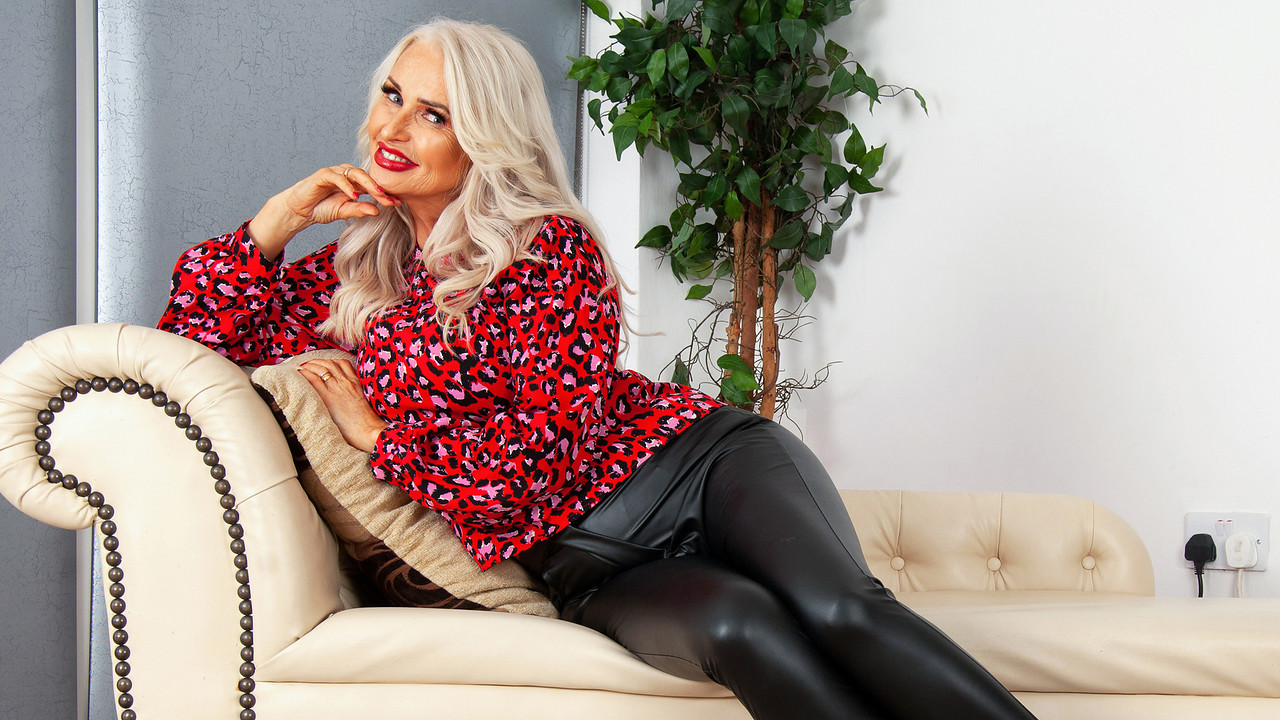 featuring Farrah.
Added On:
May 18, 2022
Description:
We can't get enough of watching blonde bombshell Farrah strut her stuff in those tight leather pants as she works her shirt off. Once she starts stripping, you will want to bury your face between her DDs and then between her thighs as she shows you her incredible cougar body.
With her unbelievable rack that makes grown men stagger and hyperventilate, Daylene Rio can pretty much own any guy she sets her sights on. All she needs to do is wear a dress like the one she's wearing in this reverse strip sequence and eye-bang you and you're done for.
From waking up and giving herself a wake-up quickie to picking the right bra, panties, dress and heels to wear, Daylene's preparation before she leaves for the day is a thrill ride of big boobs and big booty. To be Daylene's tailor and bra-fitter… that would be nice. Even better would be to hear Daylene call you "Papi" as you plunged your hard dick into her tight pussy.
If you were going out on a date with Daylene and you could sit and wait in her bedroom as she got dressed and ready, you'd probably encourage her to try on even more outfits and underwear and take her time getting dressed. What's the rush to go out?
"A friend suggested I apply to The SCORE Group," said Vanya Vixen.
"I always wear a bra in public but as soon as I get home, the bra comes off. I like Balconette, right off the rack."
Speaking of racks, Vanya says she developed early. She wasn't the bustiest girl in school until high school.
A vixen with fetish pursuits, Vanya's tats are just the start. "I love to be a domina. I like spanking people. I love hosiery, corsets, chunky heels, wedges, smoking, foot fetishism, sensory play and tickling. But nothing too harsh."
Vanya's a Florida girl and likes to spend time on arts and crafts and photography when she's not spanking someone's ass. She's a web-cam model and calls herself a homebody.

Aria Carson @ CuckoldSessions.com
Brad is sitting in his room on his phone when his new girlfriend Aria has to remind him that its their one month anniversary. Aria gets upset because brad forgot and didnt think a one month anniversary was a thing. Seeing that his new girlfriend was upset about him forgetting their one month anniversary, Brad tries to make it right with her asking what does she want for their anniversary? Aria says that she wants to fucks his roommate Jax! Brad being afraid of upsetting Aria because the sex is so good, reluctantly goes to the other room to ask Jax to please bang his girlfriend for their anniversary. Jax tells brad its his day off and that he really doesnt want to. Brad frustrated on the idea of losing his girlfriend he offers Jax $400 to bang his girl. Jax reminds Brad that $400 is not his rate for fucking on his off day. Brad then gets frustrated and tells Jax no deal. Brad goes back to Aria and tells her that Jax isnt in the mood for sex right now. Aria throws a huge fit and tells Brad if Jax doesnt fuck her now she will break up with him right now! Brad being a little frustrated with the situation goes back to Jax and asks him to please fuck his girl because he doesn't want to lose her. Jax stays firm on getting paid for it. So brad gives him $400 cash and Zelles him the rest. Brad then goes and tells Aria that Jax will fuck her now. Aria walks into to the room and sees Jax holding his hard cock in his hand. Jax then yells out happy anniversary! Aria thanks Brad for her Jax and proceeds to suck Jaxs massive cock as Brad watches. Jax then proceeds to fuck the shit out of Aria in front of his roommate Brad, making her orgasm in every position imaginable. Jax then busts a nut all over Arias face giving her the best anniversary gift ever!



Visit CuckoldSessions.com – Tiny Dick Cuckolds And Their Black Cock Wives @ Cuckold Sesssions | Aria Carson
Hard Cock For A Soft Bra-Buster
Sirale hooks up with Neeo, a dependable Czech stud who has pounded many of the sexiest Eastern Europeans, such as Barbara Angel, Sharon Pink and Westy. He's playing around with a new camera when Sirale checks up on him. Sirale and girls like her are instinctively turned on when there's a camera in a guy's hands and she wants him to snap her. He tries but he's having problems with its technical complexities.
Sirale hovers over him, sticking her large cleavage in his face and giving him a back rub. She's trying her best to distract him from reading the camera manual. She looks at our camera and you can picture the light bulb appearing over her head as she comes up with the right way to get him away from his new toy.
She leaves and comes back in her bra and panties. Now, Neeo is all eyes and they're feasting on Sirale's buxom body. He starts shooting Sirale as she poses on the couch. Cameras were created to attract, photograph and potentially fuck sexy, pretty women. Don't let anyone tell you anything different or give you bullshit about art. Neeo's picture-taking wraps up quickly and he begins to fondle and play with eager Sirale's hot and curvy body. She is anxious to get filled by the cock and Neeo has the right equipment to service Sirale.
He feeds her hungry mouth and Sirale gobbles his shaft. While he's fucking those big boobs, she sticks her tongue out to lick the tip. She lies back on the couch so he can eat out her wet pussy. Sirale repays the favor by jerking and tit-fucking his dick again. She gets the bone up her pink pussy-pocket, and Neeo rams it in hard, pumping her shaved slit of pleasure. Sirale wants it harder and faster and she gets it.
Czech bra-busters are into being really hammered and Sirale is no exception. They could be the ultimate fuck toys out of all the nationalities of the world. Her tits shake, quiver, dangle and swing as Neeo humps and grinds her in as many positions as they can think of. He power-fucks Sirale and then facials her with a load smack in the kisser. She stares straight into the camera and smiles as the nut-nectar drips down her chin and onto her big, sexy jugs.